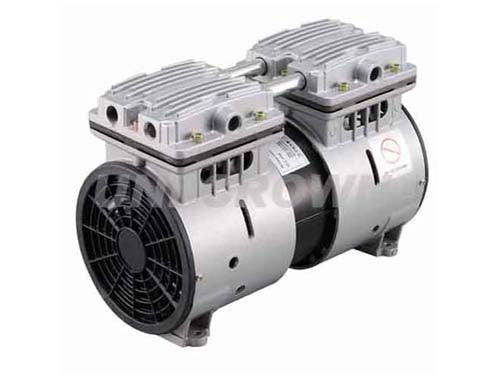 Uni-Crown 1/4 HP (4CFM) Oil-less Piston Pump
This is a brand new Uni-Crown 1/4 HP (~4CFM) Oil-less Piston Pump. This is the lightest and quietest pump Affordable Milkers has to offer. 
This pump is only recommended for use with very small systems such as the Mini-Milking Setup.
If you are looking for a Mini-Milking Setup with one of these pumps, you can purchase it here.
This pump is also excellent for battery operated set-ups. With the proper setup (including AC to DC inverter), this pump can be run off a new 35ah AGM Deep-Cycle battery for 20 minutes and possibly longer before discharging the battery to 50%, the lowest you would want to dischare an SLA/AGM battery.
This pump is a great solution if sources of electricity are limited in your milking barn or wherever you do your milking. 
Uni-Crown Oilless Vacuum Pump Specs:

-110V/60HZ

-Draws ≦300 Watts when running

-Input Current (Amps) ≦3.2 A

-Max. Volume Flow: 4.23 CFM

-Max. Vacuum Rate (mmHg) 680 mmHg

-Motor Speed (RPM): 1700 RPM

-Noise Level dB(A): ≦ 66 dB(A)

-Thermal Protector 135 ±5°C

-ID of Inlet / outlet port NPT 1/4 in


Price Includes shipping to lower 48 states. 
---