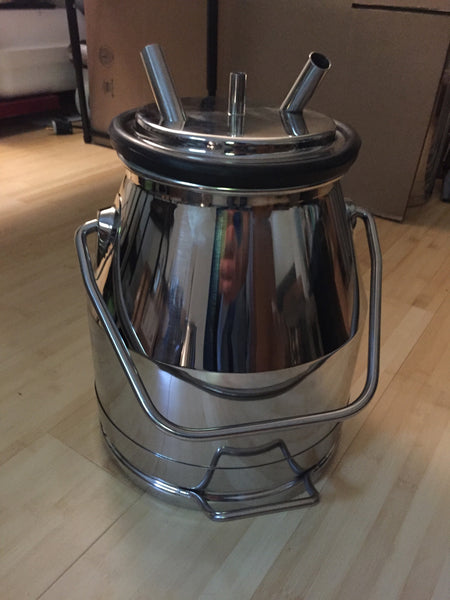 Grade A 2.5 Gallon Stainless Steel Mini-Milk Bucket
The Grade A 2.5 Gallon Stainless Steel Mini-Milk Bucket is a compact bucket with similar to the larger milking buckets I sell just in small size.
These unique and versatile buckets can also be used for hand milking, milk storage and milk transport.
These buckets are essential for Grade A applications because the lack of a lip, as seen in the other style of 2.5 gallon bucket I carry, allows milk to pour out easily and not get trapped inside the bucket which could lead to bacterial growth without proper cleaning.
By adding a 2-port lid, you can also these buckets can also be used as a vacuum reserve tank/moisture trap to protect your pump and help maintain vacuum level especially when using a smaller pump. 
Use the dropdown to choose if you like the bucket by itself or with a 2-port or 3-port lid. Material for lids may vary based on availability( clear or stainless steel). Please specify if you'd prefer a certain material. 
3-port lid is required in if you'd like to add a pulsator to the lid. An adapter may be required to do this, depending on your style and brand of pulsator. 
Price of these buckets includes applicable tax and shipping.